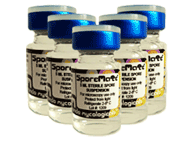 Psilocybe Cubensis Spores
The P. cubensis are the ideal mushroom strain to research and cultivate, because it develops easy on various substrates for reproduction of it's spores. Spores of the Cubensis strain are available in a syringe 20ml, spore vial 10ml and as a spore print.
Mushroom Spores are for microscopic and taxonomy use only. Cultivation is restricted in most countries.
The Psilocybe Cubensis is a potent species of psychedelic mushroom with the active compounds psilocybin and psilocin. The P. Cubensis belongs to the Strophariaceae family of fungi and was previously known as Stropharia cubensis. Common names are shrooms, mushies, boomers, magic mushrooms, golden tops, cubes or gold caps.
26 Product(s) matching your selection